Front Projection and Dedicated Theaters

"There will always be a need for a quality control system in the cinematic experience. Because it is highly technical and there are so many variables, you really need to have a way that you can equate what is created on one end with what the viewer sees on the other, and have that (experience) match up."  ---George Lucas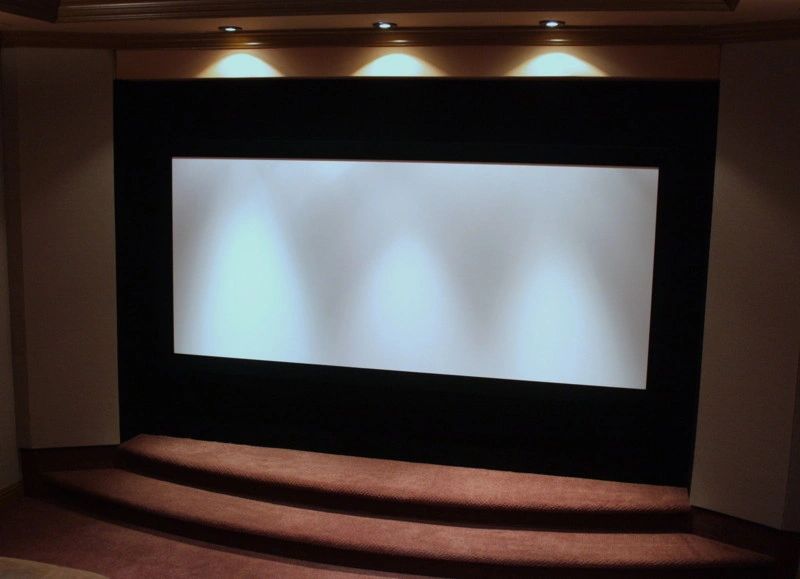 Cinema-Pro Home Theatre specializes in front projection systems and dedicated home theater design and execution. This field is the most demanding of all since it must not only address the beautiful appearance and the ambiance of a fine professional cinema, it must perform to a demanding technical benchmark. We welcome the most demanding of expectations because our benchmark is set by our founder who has a vested interest in how movies are reproduced since he has spent many years making many of them.

Our designs for reference home theaters begin early in the planning and design stage where we learn about your dreams, and establish basic parameters. Then the design phase begins which addresses the obvious appearance of the room, but also an extraordinary amount of technical aspects. Our goal is to faithfully recreate the spectacular experience of the finest professional THX Certified Cinemas and screening rooms.





Anamorphic Projection

Also known as 2.35/2.40 Constant Image Height (CIH) (and as CinemaScope and Panavision 35 in its professional versions). Cinema-Pro Home Theatre is one of the most knowledgeable providers of these systems in the industry. This approach provides the most faithful cinematic experience today; precisely like the widescreen cinema experience. Starting with a superb 1080p projector, we add state of the art video processing, a Blu-ray source, and a superb anamorphic projection lens to project blockbuster movies as they were intended; on a giant 2.35/2.40 aspect ratio acoustically transparent screen. This provides the ultimate in professional cinema-like performance, utilizing the full resolution and brightness capabilities of the latest home theater technology. As always, our designs assure not just a gee whiz effect, but top picture quality performance based on professional performance specifications per DCI, SMPTE, and THX.



Acoustics

Our dedicated home theaters are carefully acoustically designed to provide a listening environment that is exceptional. We utilize the same meticulous approach as is used in professional THX Certified Cinemas. Special construction techniques are used to isolate sound, keep the noise floor very low, and the room articulate but never acoustically "dead." This careful balance allows the sound system to achieve remarkable performance that will faithfully render the experience of the finest commercial cinemas, and surpass most of them.

Our Scottsdale Reference Theater Project featured in the photos on this page utilizes a 1080p anamorphic projection system and an acoustically transparent 2.35 screen. The theater also utilizes sound isolation construction and a low-noise HVAC design. Finally, it features an eleven speaker THX Ultra2 surround system and an acoustic treatment array (custom designed by Cinema-Pro Home Theatre)...all concealed.

Calibration

The final step in the project is the calibration of both the projection system and the sound system. We first check/verify the acoustic performance of the room utilizing high resolution audio analysis equipment, then calibrate the sound system utilizing Audyssey MultEQxt or Audyssey Pro. Display calibration is accomplished using various instruments required by ISF. The final result is an image that is the best that can be achieved and corresponds to the standards used by professional cinemas (SMPTE/DCI).

"Will I be able to see and hear the difference?"
 
Absolutely. It is the difference between a neat-sounding gimmick and breathtakingly beautiful performance and realism. Regardless of your preferred listening volume, a custom home theatre or media room by Cinema-Pro Home Theatre is characterized by crystal clear dialogue, beautifully smooth frequency response across a very large listening area, and precise imaging of the front channels of sound. The surround channels create astoundingly realistic sound envelopment. The bass is smooth and accurate, extending into the lowest octave of audible sound, and is capable of intense power. The same qualities apply to the reproduction of multi-channel music sources. The picture is rich, vibrant and cinematic for Blu-ray, HDTV. and DVD. These qualities define the essential experience of the professional THX Certified Cinema...and your custom home theatre from Cinema-Pro Home Theatre.